Genetic Algorithm code in ns2 – Genetic algorithm is as also a special kind of stochastic search algorithms, genetic algorithm is also a problem solving method which is based on the concept of natural selection and genetics.
What is genetic algorithm?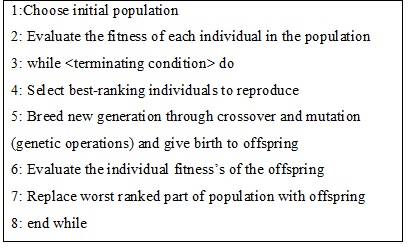 Functionalities of genetic algorithm:
Population generation.
Fitness function evaluation.
Selection.
Repair.
Mutation.
And also in Cross over.
Fields of genetic algorithm:
For routing.
Also For providing network security.
In neural network.
Also In networking communication.
Applications also in sensor network.
Biological in also process etc.
Sample Genetic algorithm code in ns2
puts [exec ps -C tclsh -orss,size] ;# XXX
package require gaul
puts "GAUL Library: [gaul version]\n"
puts [exec ps -C tclsh -orss,size] ;# XXX
proc genrand {max num} {
    set result 
    for {set i 0} {$i < $num} {incr i} {
        lappend result [expr { int($max * rand()) }]
    }
    return $result
}
proc generation {name gen} {
    puts "\nGeneration: $gen\n"
    # XXX puts [pop list]
}
proc evaluate {name entity} {
    global goal
    set result [expr 100 * 10]
    for {set i 0} {$i < 10} {incr i} {
        incr result [expr -1 * abs([lindex $goal $i] - [lindex $entity $i])]
    }
    #puts "Evaluate: $result"
    return $result
}
proc seed {name entity} {
    set seed [genrand 100 10]
    #puts "Seed: $seed"
    return $seed
}
proc adapt {name entity} { ;# XXX
    #puts "Adapt"
    return $entity
}
proc mutate {name entity} {
    #puts "Mutate: original: $entity"
    lset entity [genrand 10 1] [genrand 100 1]
    #puts "Mutate: mutated:  $entity"
    return $entity
}
proc crossover {name entity1 entity2} {
    #puts "Crossover: Father: $entity1"
    #puts "Crossover: Mother: $entity2"
    set cross [genrand 10 1]
    #puts "Crossover: cross: $cross"
    set child1 [concat [lrange $entity1 0 $cross-1] [lrange $entity2 $cross end]]
    set child2 [concat [lrange $entity2 0 $cross-1] [lrange $entity1 $cross end]]
    #puts "Crossover: Child1: $child1"
    #puts "Crossover: Child2: $child2"
    return 
}
set goal [genrand 100 10]
puts [exec ps -C tclsh -orss,size] ;# XXX
gaul create pop 100 \
    -generation_hook generation \
    -evaluate evaluate \
    -seed seed \
    -adapt adapt \
    -mutate mutate \
    -crossover crossover \
    -select_one SUS \
    -select_two SUS
puts [exec ps -C tclsh -orss,size] ;# XXX
pop params {*}[pop params]
pop seed
puts [pop evolve 50]
puts "Goal:     $goal"
puts "Solution: [pop solution]"
# stats
# list
# rank
puts [exec ps -C tclsh -orss,size] ;# XXX
pop destroy
puts [exec ps -C tclsh -orss,size] ;# XXX
gaul create pop 100 \
    -generation_hook generation \
    -evaluate evaluate \
    -seed seed \
    -adapt adapt \
    -mutate mutate \
    -crossover crossover \
    -select_one SUS \
    -select_two SUS
puts [exec ps -C tclsh -orss,size] ;# XXX
rename pop {}
Tweet